Custom gold candy pads metalized foil chocolate pads
Metalized foil cushion pads are an ideal choice for candy and chocolate desserts. Collocation Paper gift boxes, it is suitable for any occasion.
We manufacture custom gold chocolate pads according to the different needs of each customer.
We can print your brand logo on the gold candy pad and provide cutting custom in different shapes.
Custom your Metal foil paper pad
The cushion pads are made of food-grade paper and Surface foil coating, which helps to keep your delicacy food fresh. Helps protect candy and chocolate from external crushing and vibration.
We can print the brand logo and color printing on the metal foil coating, so that your goods have more visual impact and increase the desire to buy and share later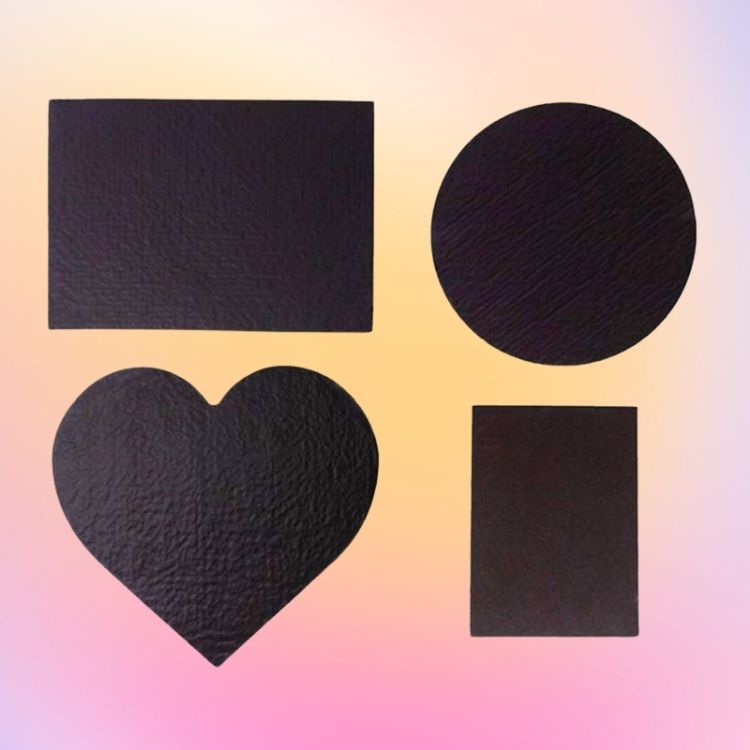 Custom your structure and shape
We have the development and manufacturing capabilities of square, circular, heart-shaped, and any shape.
We are happy to customize the right size for each brand
We can not only produce round paper pads of various sizes (including but not limited to 10 inches, 11 inches, 12 inches, 13 inches, 14 inches, 15 inches, 16 inches, 17 inches, 18 inches, 19 inches, 20 inches in diameter) metal aluminum foil paper pads.
Brown and white are also popular colors

We help customize square candy and chocolate mats of different sizes in some small cartons or gift boxes. It not only supports DIY of different sizes but also provides the printing design of the brand logos. Help start-ups grow
| | |
| --- | --- |
| length(inch) | width(inch) |
| 3 1/2 " | 3 1/4 " |
| 3.375 | 3.375 |
| 4.3125 | 2.75 |
| 4.4375 | 2.75 |
| 5.25 | 2.5 |
| 5.375 | 5.375 |
| 6.25 | 3.5625 |
| 6 1/2 " | 3 1/2 " |
| 6.625 | 4.25 |
| 6.75 | 3.25 |
| 6.875 | 4 |
| 7.375 | 7.375 |
| 8 1/8 " | 5 1/4 " |
| 9.125 | 5.875 |
| 9.125 | 5.5625 |
| 9.625 | 9.625 |
| 10.625 | 7.0625 |
| 10 1/2 " | 8 1/8 " |
| 11.75 | 9.125 |
| 14.5 | 8.875 |
We can make any size and thickness you want
Customize your candy pads Number of layers and thickness
Candy pads are available in white or gold and have glassine bottoms. Protect your chocolates and other confections from shifting inside the candy box. You can also use these candy pads to separate layers of confections in a multi-layer box.
Our metal cushion paper supports additional elegant brand packaging elements.
You can use our luxurious, standard silver finish of metallized paper to create a high-quality cushion, which is perfect for high-end candy, chocolate and cookies. You can also color or print our metal paper and add other designs or brands to your mat.
Using our metal paper, your mat will be recyclable and environmentally friendly.
R & D engineer and technical director
We repeatedly improve the research and development of candy pads to provide superior protection for your chocolate candies.
These pads are natural buffer substances for candies to ensure that mobile and transport will not destroy your delicious chocolate.
The candy pad is an internal structure made of multi-layer paper, which is like many small spring, which is the buffering force of these small springs. It will keep chocolate safety turnover transportation.
What Are Our cushion pads for chocolate boxes Made Out Of?
Our chocolate box cushion pads are made of food-grade glass paper.
glass paper is resistant to static, easy to absorb oil, non-water, surface custom printing, and high anti-air passage. Glass paper is the best raw material for making chocolate box padding. The glass paper also has low migration of ink to ensure that the printing ink does not migrate into the food.
And the glassine paper we use is food grade. Ensuring it can come into contact with your chocolates with no concerns.
Whether it is external glass paper or an internal honeycomb buffer all chocolate box padding a 100% recyclable and environmentally friendly biodegradable. We make our pads in a dust-free environment to ensure no pollution opportunities.
Rectangle, square, heart, circle, triangle, octagonal or you say shape, I have customized any shape of candy pads. Everything they make is based on your specifications. The number of orders is no minimum. Their prices are your exact needs.
3 ply and 5 ply structure. They have been innovating and improving our products. They have developed 7 ply and 9 ply structures, currently being fused with innovation and elegant alternatives! Ordinary or printing, chocolate or white will supplement our external packaging. custom design to print to enhance the elegance of the candy pads.
PapercuShionPads have a management - a philosophical - service. Product quality and communication can get our customers' satisfaction.
Decorative and protective candy pads are also known as wadding, waffle, and deco pads. But no matter how you refer to them, called the most glamorous on the market today! We have been working with them for over 10 years. they will continue our fanatical approach to quality, service, and on-time delivery.
Free samples and quick quotes
Why choose we as your candy pad supplier?
Custom candy pads with logo provide exceptional protection for your chocolate products.
These pads act as a natural spring for your candy, ensuring that moving and shipping won't break up your delicious chocolates.