Custom Paper Chocolate Box Cushion Pads
As a leading manufacturer of packaging solutions for the chocolate industry, we understand the importance of protecting your chocolates during transportation. Shipping chocolates can be a delicate process, and any damage during transit can result in customer dissatisfaction and loss of sales. That's why we offer a range of high-quality chocolate cushions chocolate box cushions and chocolate box packaging that provide superior protection for your chocolates.
We manufacture custom chocolate cushion pads according to the different needs of each customer. make your chocolate packaging look unique and keep chocolate safe.
The cushion pads are made of food-grade paper and have a special coating on the top surface, which helps to keep your chocolate fresh. The cushion pads can be used to wrap chocolate products. We think the only custom makes your brand unique. Made from eco-friendly materials, these cushion pads offer excellent protection while also being environmentally sustainable.
Custom LOGO for chocolate boxes pads
The cushion pads can be made out of different colors as per your requirement or as per your company's demand. It is also possible to print your company logo on these custom printed chocolate cushion pads.
Food-grade greaseproof paper with environmentally friendly soy ink
Custom your chocolate cushion pads shape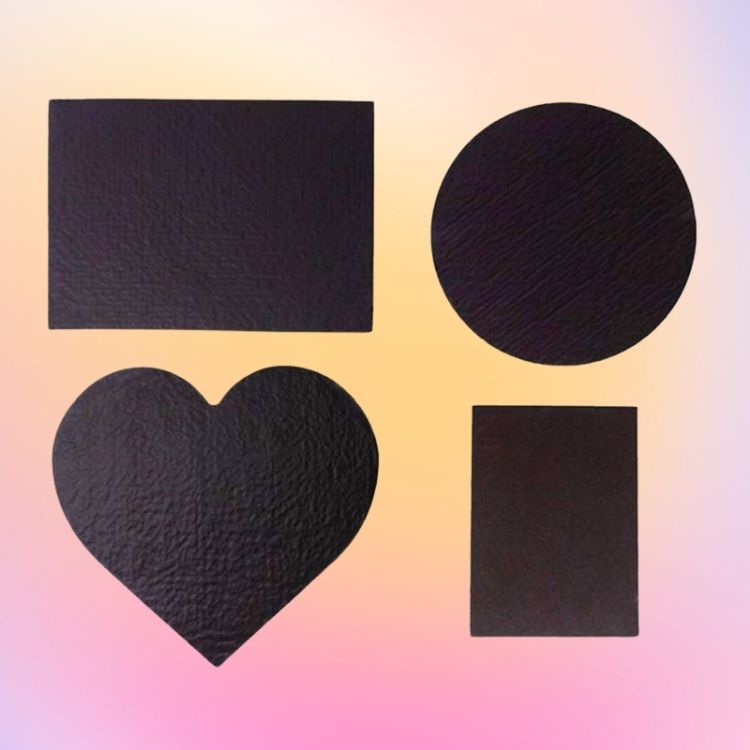 Cushion pads for chocolate boxes, another term for chocolate box cushion pads, come in various sizes and shapes to fit different types of chocolate boxes. They can be customized to fit specific box dimensions and chocolate weights, ensuring that the chocolates are adequately supported and protected during transit.
Custom your chocolate pads color
The mat of the chocolate box is usually made of white, brown or gold paper, white can set off the original color of the food, brown is often used for chocolate boxes, gold is a symbol of nobility.
In addition, you can also customize the color according to your brand style
Key benefits:
Provides superior protection for delicate chocolate products during shipping
Eco-friendly and recyclable material options available
Customizable to fit various chocolate box sizes and shapes
Helps maintain the appearance and quality of chocolate products, increasing customer satisfaction and brand reputation
We are happy to customize the right size for each brand
These cushion pads offer superior protection for your chocolates and are available in a range of sizes to fit all types of chocolate boxes. Our chocolate cushion pads are also customizable, allowing you to add your branding or messaging to enhance your brand and create a lasting impression on your customers.
Using our chocolate cushion pads and cushion pads for chocolate boxes is easy. Simply place the pads at the bottom of your chocolate boxes before adding your chocolates. Our cushion pads will absorb shock and prevent damage during transportation, ensuring that your chocolates arrive at their destination in perfect condition.
Papercushionpackage has a team of experienced, dedicated, and professional designers who will design custom printed chocolate box pads to give your brand an edge over your competitors. We are proud to offer the best quality printing at a reasonable price to our customers.
The chocolate cushion pads are made of paper, which is a natural material, and they have a better absorbent performance than other materials. They are mainly used in cushioning the chocolate box during transportation, storage, and display.
A chocolate paper cushion pad is an essential product for packaging chocolate boxes. The main purpose of using this paper cushion pad is to protect the chocolate box from being damaged during transportation and storage.
Chocolate cushion pads can be divided into two types: general use chocolate paper cushion pads and special use chocolate paper cushion pads according to their usage. The former is mainly used for packaging normal chocolate boxes; the latter is mainly used for packaging high-end chocolates with high requirements on appearance and quality such as luxury gifts, wedding gifts, or congratulation gifts.
Customize your candy pads Number of layers and thickness
Chocolate cushion pads are essential to keeping your product in perfect condition at any time, anywhere. Our thick and durable sheets protect your chocolates from damage during transport and storage. This means our chocolate box inserts are ideal for transporting products over long distances. They are especially useful when shipping through delivery companies such as Amazon, UPS or FedEx. The internal packaging will protect the chocolates between each layer of the box and prevent them from sticking together when stored on shelves inside the box.
We use food grade materials made of recyclable paper pulp to manufacture our chocolate inserts, so they are safe for food products. All internal packaging materials are manufactured in cleanrooms according to ISO standards. Papercushionpads Package takes hygiene very seriously, so you can be sure that our custom packaging is perfect for any luxury food brand or retailer!
R & D engineer and technical director
We repeatedly improve the research and development of candy pads to provide superior protection for your chocolate candies.
These pads are natural buffer substances for candies to ensure that mobile and transport will not destroy your delicious chocolate.
The candy pad is an internal structure made of multi-layer paper, which is like many small spring, which is the buffering force of these small springs. It will keep chocolate safety turnover transportation.
What Are Our cushion pads for chocolate boxes Made Out Of?
Our chocolate box cushion pads are made of food-grade glass paper.
glass paper is resistant to static, easy to absorb oil, non-water, surface custom printing, and high anti-air passage. Glass paper is the best raw material for making chocolate box padding. The glass paper also has low migration of ink to ensure that the printing ink does not migrate into the food.
And the glassine paper we use is food grade. Ensuring it can come into contact with your chocolates with no concerns.
Whether it is external glass paper or an internal honeycomb buffer all chocolate box padding a 100% recyclable and environmentally friendly biodegradable. We make our pads in a dust-free environment to ensure no pollution opportunities.
Rectangle, square, heart, circle, triangle, octagonal or you say shape, I have customized any shape of candy pads. Everything they make is based on your specifications. The number of orders is no minimum. Their prices are your exact needs.
3 ply and 5 ply structure. They have been innovating and improving our products. They have developed 7 ply and 9 ply structures, currently being fused with innovation and elegant alternatives! Ordinary or printing, chocolate or white will supplement our external packaging. custom design to print to enhance the elegance of the candy pads.
PapercuShionPads have a management - a philosophical - service. Product quality and communication can get our customers' satisfaction.
Decorative and protective candy pads are also known as wadding, waffle, and deco pads. But no matter how you refer to them, called the most glamorous on the market today! We have been working with them for over 10 years. they will continue our fanatical approach to quality, service, and on-time delivery.
Why choose we as your candy pad supplier?
Custom candy pads with logo provide exceptional protection for your chocolate products.
These pads act as a natural spring for your candy, ensuring that moving and shipping won't break up your delicious chocolates.
The chocolate pads have been around for many years and they have always been used to make sure that the chocolate packed in a box does not break or get damaged by any rough handling during transportation. The pad is placed inside the box where it can protect all sides of the chocolates from getting damaged during transit. It also helps to keep them fresh until they reach their destination where they will be opened by someone who will enjoy eating them straight from the box or by placing them on top of other things like cake or other sweets on display at home or at work.
Art of chocolate pads packaging
Chocolate packaging is a delicate art. It's not just about creating beautiful designs and shapes, it's also about getting the package to be as visually appealing as possible.
The chocolate cushion pad is an important part of this process because it protects your product from damage during transport and storage. It also keeps your chocolate in place so it doesn't shift around inside the box.
Chocolate cushion pads work by providing a layer of cushioning between the chocolate product and its packaging, reducing the impact of external shocks and vibrations during transportation. They also help absorb excess moisture.
When selecting chocolate pads, it is essential to consider factors such as the size and weight of the chocolates, the type of transportation, and the distance of the journey. The appropriate pad must be selected to ensure that the chocolates are adequately protected during transit.
In conclusion, chocolate pads, chocolate cushion pads, cushion pads for chocolate boxes, and chocolate box pads are vital components in the packaging and transportation of chocolates. These pads provide essential cushioning and protection to ensure that chocolates arrive at their destination in perfect condition. With careful selection and application, these pads can help preserve the quality and taste of chocolates during transit.
Do you have any further questions?For example:
Limited customization options: Many chocolate cushion pad suppliers only offer a limited range of sizes and materials, which can be frustrating for businesses with unique product dimensions or packaging requirements.

Inconsistent quality: Finding a reliable supplier that consistently delivers high-quality chocolate cushion pads can be a challenge for businesses. Poor quality cushion pads can lead to damaged chocolate products and a negative impact on brand reputation.

High minimum order quantities: Some chocolate cushion pad suppliers have high minimum order quantities, making it difficult for small businesses or those with limited storage space to purchase the quantity they need.

Slow lead times: Lengthy lead times for cushion pad production and delivery can cause delays in product shipments, which can be costly for businesses.

Limited eco-friendly options: As more businesses prioritize sustainability, finding cushion pad suppliers that offer eco-friendly materials and production processes can be a challenge. Limited options for eco-friendly cushion pads can make it difficult for businesses to meet their sustainability goals.

Price competitiveness: Businesses may struggle to find chocolate cushion pad suppliers that offer competitive pricing, especially when compared to other packaging materials or alternative cushioning solutions.

Limited design options: While many chocolate cushion pad suppliers offer customization options, some may have limited design capabilities. This can be a pain point for businesses that want to include their branding or other unique features on their cushion pads.

Difficult to handle and store: Chocolate cushions are often large in size, which can make them challenging to store and transport. Unable to provide a safe and clean storage environment for brand parties that need to ship in batches.
As a chocolate cushion pad manufacturer, we understand the importance of addressing pain points in the purchasing process for our customers. By offering solutions such as competitive pricing, showcasing our reliability and quality control, expanding our design capabilities, providing assistance with handling and storage, and testing compatibility with different packaging materials, we can improve our competitiveness in the market and attract more customers.